There are many things that I love in life. At the top of the list, or at least somewhere near the top, are
bright colors, art, crafts,
and
things that are free
. When I can combine all four of those things it is a very good day. Today was one of those days.
A few weeks ago, I worked on painting a piece of
easy geometric art
. As I was painting, I thought
"Surely there must be an easier way to get the same effect. I wonder what would happen if I used a bunch of paint swatches?"
Unbeknownst to me at the time, that was the very same weekend that Jen at
Life, Crafts, and Whatever
had the
exact same idea
. And we weren't the only ones with this idea! That weekend, Ellen at
Creative Passage
also decided to create
paint chip wall art
! (Like I said earlier this year,
life is full of synchronicity
-- it never ceases to amaze me.)
I did not end up working on a paint chip wall art project that week because I needed supplies. I went to Lowe's and picked out a bunch of paint chips in every color that interested me (and while my Guilt Monster tried to make me feel bad about this, I pointed out that the paint chips are being put to good use AND I need to be thinking about a new color for my bathroom, so this is acceptable -- right? So there, Guilt Monster!)
I've had the frame for a long time, a purchase I bought one day on clearance thinking that the poster I wanted to frame was 11"x17" (turns out it was 12"x18" -- whoops). I also grabbed the ever-ready double-sided tape (my dear friend).
I used the paper in the frame as the mat on which to stick the paint chips:
Once I had a few started, I began staggering the chips, making sure to always cover the writing on the chips so it wouldn't distract from the colors.
Obviously Nora thought she could help. She chose colors by sitting on them.
It took me fewer than 20 minutes from start to finish.
I am sharing this here:
The "newbie linky" party at Debbiedoos!
And...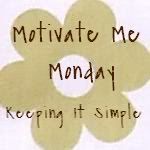 A Little Lovely